Meet Lucy, one of the makers of our beautiful Bordersbags. Lucy is a member of our business incubator and currently developing her own creative textiles business. Tell us about your experiences of ReTweed I joined ReTweed's training programme at the start of this year. I was feeling a little bit lost since giving up my career after the birth of my first son nearly five years ago. Since then, I had a variety of part-time jobs, cleaning, admin work. But I was missing something, my confidence was low, we were struggling financially to get by, our house needed a lot...
---
Sarah was among the first of our students when ReTweed started in 2016. When she completed the course, she missed us so much she returned as a volunteer, manufacturing products and commissions for our shop. Now she is a member of our business incubator, developing plans to create her own textiles business. And making Bordersbags aswell of course! Here's Sarah, in her own words. I joined ReTweed's training programme as I felt a little bit lost, without a purpose, once my two girls started school. I immediately loved the friendliness at ReTweed, you could go in and speak to anyone...
---
I opened the fridge again and stared. I shut it again. I opened the cupboard and stared. …Maybe in the freezer? I spy a small amount of frozen mixed veg in a bag at the back. Back to the cupboard… what could I make from salt; turmeric, a little flour and some rice?! I googled it, and realised if I had an egg, I could do egg fried rice!! I rummage in my handbag for change, my coat pocket; the top of the fridge; kids pockets, back of the sofa; I just need enough loose change to buy some eggs....
---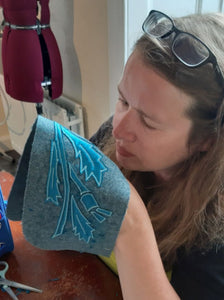 Following on from the first in our Meet the Maker series, we're delighted to introduce you to Pauline. Pauline started her training at ReTweed in January this year following a period of ill-health which had knocked her confidence. She then joined our business incubator and plans to set up her own creative business. Here's Pauline in her own words. Tell us about your training with ReTweed Getting a place on the training course to learn something new and be creative was such a huge deal. ReTweed has the most supportive and empowering environment I have experienced – it's incredible and...
---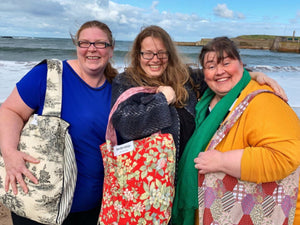 Nichola joined ReTweed's training course last autumn. She was looking to regain confidence in her working abilities and social skills after being away from the workplace for a year. She completed her training, then volunteered and now works one day a week with us as our Volunteer Support Worker. She is also a member of our business incubator and developing her own creative business. Nichola (right) with fellow business incubator participants and bagmakers extraordinaire Sarah (left) and Pauline (centre) Tell us about working and volunteering at ReTweed It's so encouraging, happy and productive. I love the creative environment and the...