Our Products
All our products are handmade by our students and volunteers
from upcycled fabrics diverted from landfill. Each item is as unique as the maker and the textiles they choose.

If you are looking for a distinct gift or just want to treat
yourself, then shop sustainably, support an exciting social enterprise and be kind to your planet (it's the only one we've got)



Find out more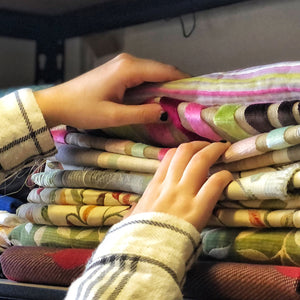 About Retweed
ReTweed is a pioneering and award-winning social enterprise based in the fishing town of Eyemouth in the Scottish Borders. We offer women a new way to think about their futures by investing in their skills and confidence. In our supportive environment, women can enjoy learning new skills, build new connections, find new ways to express themselves and increase their self-belief, encouraging them to move forward in their life's journey.

We deliver on the Greener Scotland agenda of decreasing carbon footprint by reducing, re-using, recycling and repairing. At least 80% of the textiles we use to make our products are upcycled – we love our planet and aim to get folk thinking creatively about upcycling. Giving a second life to textiles we produce unique, beautiful, useful products and encourage people to make a difference with their purchasing power - buying ethically and sustainably.


Environmental Initiative of the Year 2019: Herald Society Awards

Latest news
We're looking for volunteers to join us in a variety of roles based in our Eyemouth workshop. We need people with lots of different skills for things to run smoothly...
The third panel from our climate message series for the Stitches for Survival project. Your browser does not support our video.
There's more to me than what you see. Let me  tell you how I got here. Textiles are kindly donated.... Sometimes by people who know they will never get around...